Recent Changes
Due to the shortage of medication and the huge increased cost of what we can obtain, we must suspend our low-cost/subsidized spay/neuter pricing at this time.  If you are unable to afford our current pricing structure, let staff know and we will help people on a case-by-case basis.  
KEY POINTS & CLINIC INFORMATlON
• Surgery appointments Arrive at the clinic 7:00am to 8:00am
• Pick Up on Monday 2:00pm -2:30pm for all animals
• Pick Up Tuesday or Wednesday:
DOGS 2:00pm - 2:30pm  CATS 3:00pm - 3:30pm
• No food or water after 10:00pm the night before surgery
 Animals 3-6 months old need a SMALL snack and sip of water in the morning. 1/4 of the amount of food you'd normally feed. 
Bunnies DO NOT FAST: Bring food with them, greens only, no kibble.
• CLINIC PHONE NUMBER IS (928) 532-1602
CLINIC ADDRESS IS 4050 S. WHITE MOUNTAIN RD. SHOW LOW, AZ. 85901
COVID Precautions
• One client at a time in the clinic lobby
• Call to let us know that you are here from your vehicle and we will advise you when to come in.
• Only ONE person can come in with the patient. No children at this time.
•  Masks are strongly recommended and are required if you would like to be in the room with the doctor.
If you have shown any signs of illness, been exposed to COVID or were asked to quarantine please call us to reschedule your appointment
For Our Clinic Clients:
Pet Allies is again providing much-needed and wanted spay/neuter surgery.  Call the clinic for details as changes are frequent. 928-532-1602 Monday to Thursday 0-4.  Thank you for your patience.  We look forward to seeing you.  
We are happy to let you know that we have two new doctors at the clinic.  Dr. Robert Evans is a relief Veterinarian and is working Mondays.  Various doctors are filling in for us as relief spay/neuter surgeons.  The clinic schedule will be changing frequently as we adapt to new doctors and new staff in the clinic.  We are excited to have these new doctors and know that you will be pleased also.
Considering the recent novel coronavirus (COVID-19) outbreaks, we wanted to take a moment to assure you we plan to follow guidelines for services based on State or Federal agencies. However, if our own staff levels are impacted due to illness, services could be limited and we will keep you posted if that happens.
 For the protection of our patients, clients, and employees, we are taking additional steps to continue to provide a safe and clean environment:
 ·   We are minimizing all person-to-person physical contact. We have asked our team to refrain from shaking hands.
·    Patient visits may be limited on a case-by-case basis at doctor discretion with a maximum visit time of 15 minutes.
·    We have increased the frequency of cleaning and disinfecting of all high-touch surfaces throughout our facility.
.    We recommend clients must wear a mask while in the clinic if you do not already have a mask we will give you a free one.
·    As always, exam rooms are disinfected between patients.
 We are closely monitoring the guidance of the World Health Organization, Centers for Disease Control, and local authorities regarding the spread of the virus to ensure that the actions that we are taking are comprehensive and appropriate.
Updated  March 11, 2021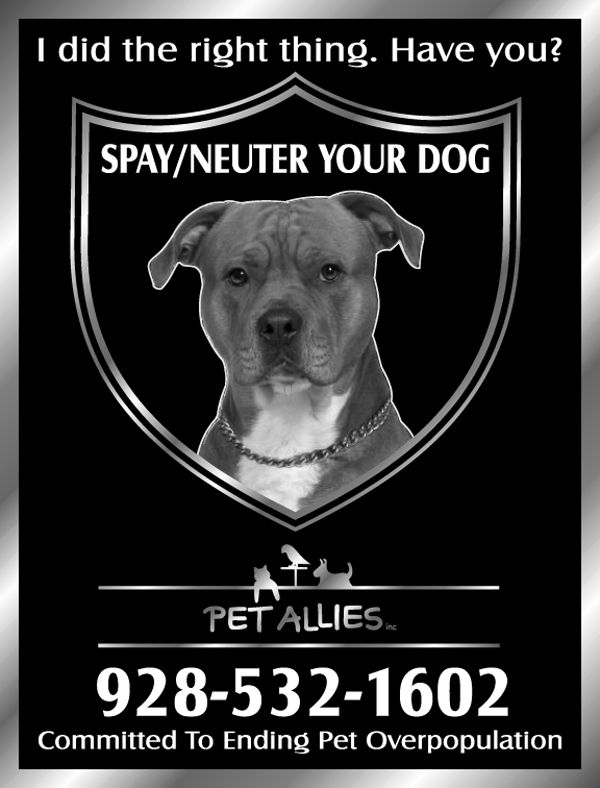 SPAY/NEUTER PROGRAM INFORMATION
Pet Allies Spay/Neuter Clinic
4050 S White Mountain Rd
Show Low, AZ 85901
(928) 532-1602
info@petalliesaz.org
Appointments can be made in several ways:  in person at the Clinic, Monday-Thursday, 10-4; by phone (pre-pay with a credit or debit card); or by sending in payment in the mail.  Ask for details by writing info@petalliesaz.org or calling 928-532-1602.
Spay/Neuter Clinic Dates 2021
Tuesday and Wednesday, March and April
The remainder of the year under construction
All Dates/Times subject to change without notice, call for details: (928) 532-1602
Vaccine & Wellness Clinic Dates 2021:
Mondays March and April
The remainder of the year under construction
Pet Allies offers two pricing structures for spay and neuter services.  There is subsidized pricing (lower prices) for spay and neuter services for families that are low income.  Continue reading to determine if you qualify for subsidized pricing.  We encourage you to ask if you are unsure.  We want to help you afford to have your pet spayed or neutered.  All fees that are not for spay/neuter services are the same for any clients.  
Due to the shortage of medication and the huge increased cost of what we can obtain, we must suspend our low-cost/subsidized spay/neuter pricing at this time.  If you are unable to afford our current pricing structure, let staff know and we will help people on a case-by-case basis.  
Subsidized Prices:
Dog $50

Cat $30

Feral/Free-Roaming cat (male or female) $20 with required ear tip     
Full Price:
Dogs $85 (up to 50 lbs) - 51 lbs to 99 lbs = $115; 100+ lbs = $120
Cats $55
Feral/Free-Roaming cat (male or female) $25 with required ear tip
Feral cats are $25 regardless of income levels.  Feral cats are required to have 'ear-tip' with surgery for identification purposes and the cat's safety.  
You qualify for low-cost fees if you currently receive services through any of these organizations, etc.
    Arizona Quest Card
    AHCCCS
    WIC
    HUD Section 8 Housing Assistance
    SSI/SSD
    Medicare
    Senior 65+
    NACOG-Head Start Program
    Food Plus Program
    Unemployed
    Active Duty Military
    Retired Military
    Teachers
If you do not meet these qualifications and are unable to afford to alter your pet, please write to info@petalliesaz.org, or call 532-1602, and speak to our Director.
Pet Qualifications
Dogs and Cats: 12 weeks and older
Weight: 2 pounds (and up)
Feral Cats are welcome.
In heat or pregnant dogs and cats are welcome.

Additional services available for your pet on the day of surgery:
    Dog & Cat Rabies vaccination: $15.00*
    Dog & Cat combination vaccinations: $15.00* 
    Micro Chip permanent identification: $25.00* (includes free lifetime registration)
    Pain control medication: $10.00*
    Toenail trim: $10.00*
    Flea & Tick Treatment: $15.00-45.00*
    Worming Medication: $10.00-$48.00*
    Ear Mites: $10.00-$15.00*
    Anal Gland Expression: $10.00*
    Bordatella: $15.00*
*Services that require being seen by the Doctor have an additional $20 office visit fee.  Prices subject to change.
VACCINE & WELLNESS CLINICS INFORMATION
Due to the high volume of requests Pet Allies is currently unable to accept new clients for vaccines only.  New clients are welcome for spay and neuter services.  Clients who are unable to afford services at full-service clinics are encouraged to contact Pet Allies' clinic to see if they can be helped.  
Pet Allies, Inc. is a 501 (c) 3 non-profit community benefit organization with the Mission: Provide non-lethal solutions to pet overpopulation. Solution: To furnish professional, affordable spay/neuter programs and to place pets in caring homes. 
Thanks 1-800-PetMeds for the donation of flea prevention for our adoptable pets!  Pet Allies is not able to stock many of the drugs needed at our clinic, but you can obtain them with your prescription at 1800petmeds.com.  
Pet Allies Subsidized Vaccine & Wellness Clinics
4050 S. White Mountain Rd. Show Low, AZ (928) 532-1602
E-mail: info@petalliesaz.org
LIMITED APPOINTMENTS
AVAILABLE MAKE YOURS TODAY!
Professional Services provided by Dr. Robert Evans, DVM and several relief Veterinarians
Dog Services:

DHPP $15
Rabies $15
Flea & Tick $48.00-$51.00* (Frontline X3 doses)
Worming $10-$40
Microchip ID $25
Toenail Trim $10
Wellness exam $20, extended exam $35
Anal gland $10
Bordetella $15.00

Cat Services:

FVRCP $15
Rabies $15
Microchip ID $25
Ear Mites $10-$15
Flea & Tick $46.00 (Frontline X3 doses)
Toenail Trim $10
Worming $10-$30
Wellness exam $20, extended exam $35
Methods of payment accepted: Cash, debit, Visa, MasterCard, Discover.
GENERAL INFORMATION
Your co-pay helps offset the cost of surgery.  Pet Allies fundraises to cover the cost of the balance of the surgery.
Spay/Neuter assistance is offered to low income families who wouldn't otherwise be able to afford to have their pet spayed or neutered.
All of the services offered through our program are with licensed veterinarians who provide professional and quality care for your pet(s). In return for receiving services through our program we ask that you follow through and bring your pet(s) to the clinic on their scheduled day. If you need to reschedule your pet's surgery we require you contact the clinic in a timely manner so that we will be able to fill your vacant appointment with another pet needing services. If you miss your scheduled appointment you may be denied future services. Pet Allies funds this program through income at its thrift store, the Barkin' Basement, and other fundraising programs, such as donations from the public. The chart below shows the number of pets we have been able to alter for families in our community with your assistance. Thank you.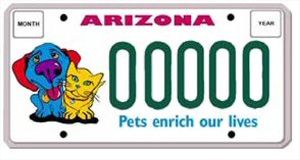 There's a new driving force in the battle against pet overpopulation...
... Arizona's new "pet-friendly" license plate!
It shows others how much you love animals - and it pays for spay and neuter services statewide to help end pet overpopulation. 
This gorgeous, four-color specialty license plate features original work by renowned artist RON BURNS and a tag line that reads, "Pets Enrich Our Lives." It's a must-have for anyone who wants to make the world a better place for animals in our state. Best of all, this specialty plate is just $25 - and $17 from the sale of each pet-friendly license plate is deposited into a fund that pays for spay and neuter services for dogs and cats across Arizona!
Order your pet-friendly plate today. The easiest way to get your plate is to visit www.servicearizona.com, (click on personalized /specialized plates) or call the ADOT Motor Vehicles Division office nearest you
Please remember our rescued animals and mission in your wills! Pet Allies, Inc, Federal Identification Number 86-0829565, 4050 S White Mountain Road, Show Low, AZ 85901. If you have any questions, need additional details, or would just like to speak to a representative regarding this life-saving gift, please contact us via telephone at 928-532-1602 or email at President@PetAlliesAz.org.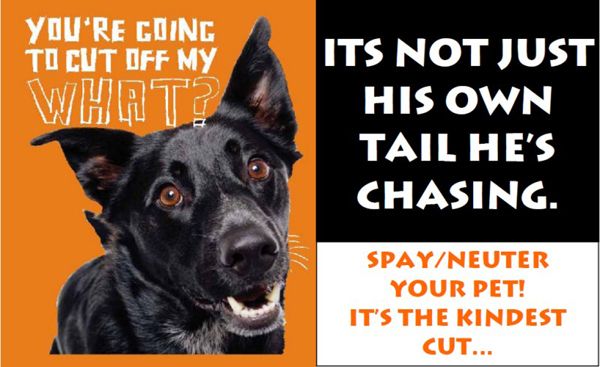 Other Spay/Neuter Clinics
Altered Tails 480-968-4867, 602-943-7729
Animal Defense League of Arizona 602-265-SPAY ADLAZ.org (hotline for information)
Arizona Animal Welfare League, Phx 602-273-6852
Arizona Humane Society 602-997-7586
Companion Pet Clinic 602-485-0485
East Maryland Animal Hospital 602-279-7366
Halo 602-971-9222 HaloRescue.org
Humane Society of the White Mountains PAWS Clinic 928-368-5295
Mobile Spay/Neuter Services 602-997-7586
North Phoenix Spay & Neuter Clinic 602-787-4240
Spay/Neuter Clinic of Phoenix 602-863-0116
Spay/Neuter Clinic of Tempe 480-829-1002
Spay/Neuter Hotline of Maricopa County 602-265-7729 or toll free 866-952-SPAY
Sunnyslope Low Cost Spay/Neuter Clinic, Phx 602-216-6442
Village Animal Clinic, Phx 602-938-8500
If you are unable to schedule services at Pet Allies Spay/Neuter Clinic in a timely manner due to our backlog, please consider contacting these other agencies. Be aware that some of these are for profit clinics and some are non-profit organizations like Pet Allies. Please verify all information and costs.
Low Cost Spay/Neuter Clinics & Referral (ask about inoculations & microchipping)